The University of Alabama recently found itself undesirably in the spotlight again when an administrator of high standing lost his job at the institution. The essence of the matter appears to be that Dr. Jamie R. Riley, dean of students and assistance vice president of student life, resigned from UA in a mutual agreement with the institution after some allegedly racist social media comments of his publically surfaced.
The Tuscaloosa News has two stories about the incident published Sep. 13 and Sep. 18, both written by Ed Enoch. The earlier story focuses on student reaction to Riley's resignation, the latter focuses on the UA Faculty Senate's reaction. While some details on the initial comments are mentioned, neither story focuses much attention on the controversial comments that serve as the catalyst for the entire situation.
In the Sep. 13 story, the reader can see some of Riley's twitter comments pertaining to a politically loaded view of the American flag (though screenshots would have been more helpful since Riley's twitter account is now visible only to approved followers), in which Riley expresses his opinion as if it were the opinion of ALL black Americans. (screenshots taken from the Breitbart article that originally broke this story)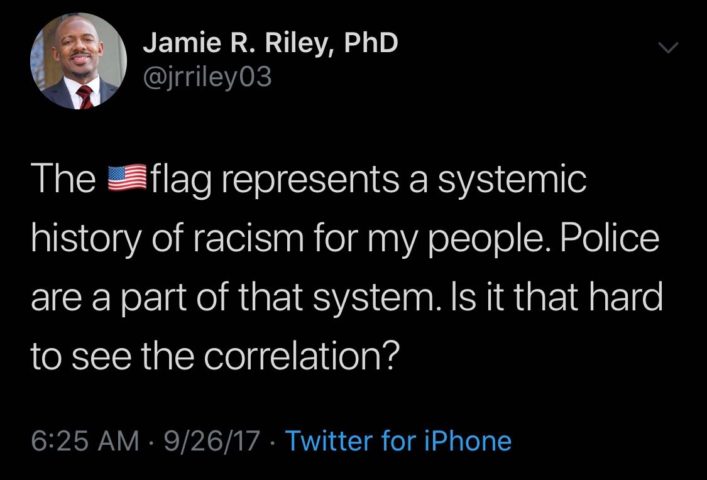 Surely not all black people think of the American flag the way Riley does. In fact, some in the black community consider the American flag is a symbol of emancipation, as opposed to a different symbol (the Confederate flag) flown in defense of systemic racism.
Another of Riley's contentious tweets claimed white people can't experience racism and therefore have no right to an opinion on the matter.
Imagine, if you will, a white person making racially insensitive remarks about the black community and being given the benefit of the doubt with defensive comments such as "the context is unclear." This is the Tuscaloosa News' odd reaction to Riley's racially combative comments. According to common understanding, if someone is discriminated against because of their race, that is racism. And that can happen to anyone, because hate and prejudice are not limited to one group or another. And we all know this.
The Sep. 18 article mentions only "systemic racism" and "police use of force" for context on Riley's statements. In what may be a subtle effort to protect Riley, neither article makes mention of further comments he made, some of which border on the conspiratorial, such as his suggestion movies about slavery may actually be a means of putting black people "in their place":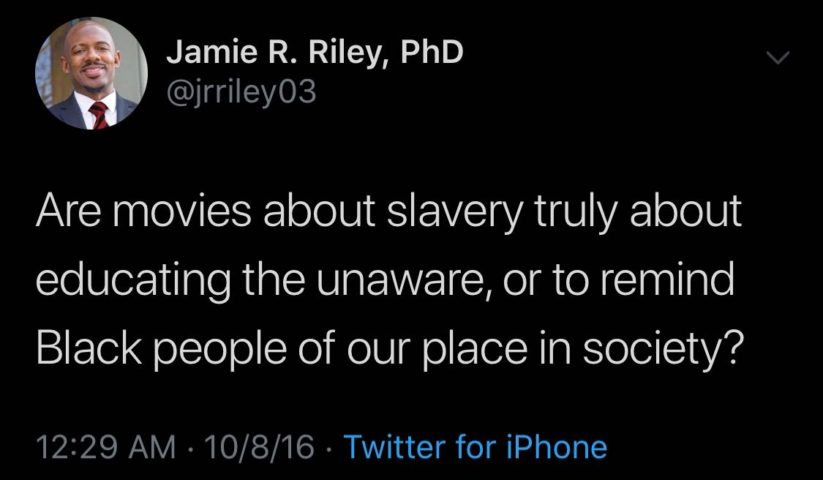 In the scenario where a university administrator makes racially disparaging remarks aimed not at merely an individual or two, but at an entire group of people, and he mysteriously resigns from his job soon after, one would think the nature of the initial comments would be the focus of subsequent reporting, rather than being glossed over. In this case, the reporting and those interviewed for these two articles instead show an odd focus on the lack of information produced by the UA administration about Riley's resignation, as if his contentious comments themselves have little to do with the situation. To borrow from a statement of Dr. Riley, is it that hard to see the correlation?
Observe some of the interview material selected in the first Tuscaloosa News article focusing on student reactions:
"This is complicated, and I don't have all the answers," said Andre Denham, BFSA president and an associate professor in the College of Education.

Denham mentioned free speech concerns from faculty and staff whose academic work involves topics discussed by Riley or those who actively share their opinions on social media.

"The university not clarifying what has happened is making folks a little nervous," he said.

Denham took questions from the students in the Ferguson Student Center ballroom. The students who spoke described frustration at the lack of information and inaccessibility to top administrators.

One of the students described frustration with university's pledge to be a diverse climate and the seeming contradiction of a black administrator forced out for expressing his opinion.

Some of the students were upset an administrator whom they admired was "taken down" for being truthful and questioned what it meant for free speech and their sense of security on a majority-white campus.
Did you notice that gold nugget about Riley being "truthful"? Were there no students interviewed who were concerned about the apparent racism of Riley's comments? A controversy such as this is controversial mainly because not everyone agrees with the comments or actions made. Clearly there is disagreement in the UA community about Riley's quick resignation and the silence of UA administration on it. Was there no disagreement about the "truth" of Riley's comments? In the American public, in general, there is strong disagreement about ideas like those Riley posted.
But the question of a double standard is not missed by the Tuscaloosa News. Another student is quoted who thinks there might be more than one set of rules in play:
(Freshman Kelvon) Malik argued the situation would be different if Riley was not black.

"If it was a white man, it would be totally different," Malik said.
I should say Malik is right. If it was a white man whose social media footprint revealed racist comments, it would indeed be quite different. It's likely that a white man in Riley's position would also have mysteriously resigned, but conspicuously precipitated by (rather than followed by) a public outcry (calling for his ouster) and there would have been no worries about free speech or academic freedom. And how can we know this? Precedent gives us some insight.
There is another Tuscloosa News story from April 2018 in which an alleged white supremacist had been invited to speak by a UA student organization. That student organization had its status as a recognized UA group withdrawn and the event in question was cancelled. Apparently there was no one in the UA community who had concerns about endangering free speech or academic freedom, and none when UA president Stuart Bell encouraged students to avoid the event before it was cancelled. At least no such concerns were mentioned in the News report. Instead of including student interviews or comments from the Faculty Senate about the matter, the writer chose to seek outside the university community and quote the leftwing activist group Southern Poverty Law Center which described the speaker as:
"a courtly presenter of ideas that most would describe as crudely white supremacist — a kind of modern-day version of the refined but racist colonialist of old."
In the case of a speaker identified by a politically partisan organization as a white supremacist, the UA administration and supposedly the UA community at large seem to agree that preventing the speaker from expressing his opinion was the right course of action. But with Dr. Riley, the community and a local newspaper apparently focus instead on "frustration and anxiety on campus with the perception that Riley was forced out for expressing his opinion…" The former incident seemed quite simple, whereas the latter is "complicated".
Similarly, there were two other incidents in 2018 (in January and in March of that year) where a UA student was found, via social media video, to be spouting racially offensive language. In both cases the students in question quickly turned out to be no longer enrolled at the university. Nowhere in the local news reporting or in Editorials was there an outcry of concern about free speech or academic freedom, or a lack of information about the change in status of the students. The reporting focused merely on the content of the racially offensive statements, not on procedural matters. These incidents likewise seemed to be quite uncomplicated, as with the cancelled white supremacist speaking event.
Returning to Riley's case, the UA Faculty Senate issued what seems to be a politically calculated response to his resignation. As reported by the Tuscaloosa News:
In the statement, the Faculty Senate said the silence from administration has perpetuated the university's reputation as non-inclusive and discriminatory; does not align with its strategic plan commitment to diversity, equity and inclusion;

Faculty Senate criticizes UA's silence on dean's departure and raises questions about UA's commitment to freedom of speech and academic Freedom.

…

The Faculty Senate also called on the administration to publicly and unequivocally affirm the university's "commitment to creating and maintaining a safe climate that supports and encourages students, faculty, and staff to exercise their right to academic freedom and free speech, to denounce inequality and racism, and promote social justice."
The instances of the two students and white supremacist show UA leadership had acted in a way that apparently the UA community thought to be apt and responsible. There is the appearance of a different standard in place for Dr. Riley, especially given the Faculty Senate's absurd implication there has been no progress against racism at the university.
In 2018 an editorial at the Tuscaloosa News shows a more level headed approach to dealing with these matters. The editorial titled "When racism surfaces, a response is required" addressed the two student incidents of that year. It mentions no meetings of the student community or any other UA group questioning the actions of UA leadership or expressing concern about free speech or academic freedom. As the article put it:
In both instances, the university swiftly condemned the behavior and reiterated its commitment to inclusion. That was the right thing to do, of course.
The editorial rightly points out the university could have done nothing to prevent "disgusting social media posts" of the two students and the appropriate thing to do is to swiftly address and disavow those actions. It also points out "(President Stuart) Bell was correct to remind the community that the university condemns racist behavior." UA leadership also quickly disavowed the white supremacist invited to speak on campus, evidently for the same reasons.
In one more Tuscaloosa News editorial titled No room for hate here, no tolerance for haters, the editor addresses the first 2018 racial incident. The title implies much of what the article is about. In it, the editor esteems UA leadership for swiftly responding to and disavowing the hate-filled comments. The editor ends the piece with what could easily be taken for a general consensus among American higher education culture (referring to the perpetrator by name for the incident in question):
There should be no room for hate here and no tolerance for those who would come here to foment it.

Yes, it was good to see reports that Barber has apologized, but ultimately her words did more harm to her than to anyone else. We hope she truly comes to understand how horribly wrong they were.

One lesson she should now understand is that her right to free speech doesn't include a right to avoid consequences for her words.
Ah, there is no right to avoid consequences for one's own words. Some evidently feel Dr. Riley's controversial comments were hateful, both toward a group of people (based on their race) and toward the United States, but you might not know that if the Tuscaloosa News were your only source. If equality is really one of our goals as a society, why should he be treated any differently than a white person found to be making racially offensive comments? Given the UA community's disapproving reaction to the Riley incident (disapproving of UA administration actions, rather than of Riley's comments themselves), it almost appears that racism is sometimes okay.
---
bigotry, diversity, education, hate speech, hypocrisy, ideology, indoctrination, left wing, liberalism, news media, pandering, political correctness, progressive, propaganda, racism, racist, relativism, scandal
Filed under: bigotry, diversity, education, hate speech, hypocrisy, ideology, indoctrination, left wing, liberalism, news media, pandering, political correctness, progressive, propaganda, racism, racist, relativism, scandal